Beachfront home with pool.
Pool loungers and ocean views.
Pool loungers and outdoor eating area.
Covered outdoor dining for 8 people.
Miles of quiet beach to enjoy.
Open wall from living room to outdoor area.
Large open living room.
Living room with books and movies available.
Fine furniture and decor to enjoy.
Main level half bathroom.
Complete kitchen with large island.
Open kitchen and dining area.
Dining table with seating for 6 and ocean views.
Dining table.
Master bedroom with king-size bed.
Master bedroom sitting area.
Ocean view from master bedroom.
Her master ensuite with tub facing the ocean.
Master shower.
His master ensuite.
Walk-in master closet.
Guest bedroom with queen bed and storage on the second level.
Guest bedroom.
Ensuite with original tile.
Ensuite with original tile.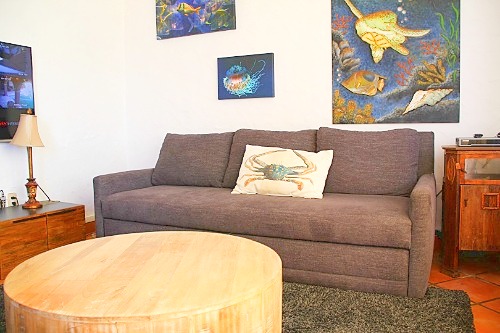 Sitting room with sofa-bed and TV on second level.
Stairs to second and 3rd levels.
Third level office space with sofa-bed.
Desk and chair facing the ocean in office room.
TV and closet space in office.
Bathroom with shower off of office.
Hacienda style garden with fountain.
Covered outdoor seating.
Outdoor seating with sliding doors to main level guest rooms.
Outdoor seating.
Outdoor seating with Mexican style seating.
First guest bedroom with queen bed on main level.
TV in guest bedroom.
Hallway to private ensuite.
Ensuite with shower.
Beautiful bathroom vanity.
Second guest bedroom with queen bed on main level.
Tv and sitting area in second guest room.
Shared bathroom with shower on main level.
Open garden area.
Garage and apartment on second level.
Stairs to private apartment.
Apartment living room open to kitchen.
Living room with exquisite decor.
TV in apartment.
Full kitchen with Smeg mini-fridge in apartment.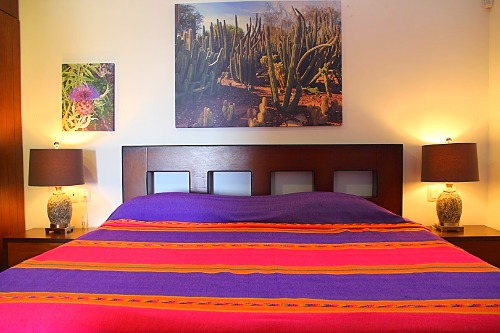 King bed in apartment bedroom.
Large closets.
TV in bedroom.
Full apartment ensuite with bath-tub and shower.
Ensuite bath-tub.
Beautiful fountain and gardens.
Beachfront vacation home in Mazatlan!
PROPERTY
BDRM: 8 BATH: 6.5 SLEEPS: 15
Hacienda Santa Fe is a one-of-a-kind private beachfront home with an infinity pool and endless ocean views. This home is located just passed the popular Surf's Up Cafe along the quiet stretch of Playa el Delfin, away from the hustle and bustle of the city.
​
Hacienda Santa Fe was professionally decorated with high-end furniture and linens, all while trying to maintain the authentic Mexican hacienda feel. The show-stopper in this home is no doubt the full wall of sliding doors, that open from the main house living room, out onto the covered deck and down to the pool and outdoor dining area.
​
The chefs kitchen is fully stocked and includes refrigerator, wall-mounted oven, dish-washer, additional island sink, as well as all small appliances (coffee maker, blender, toaster, microwave). Adjcent to the kitchen is the indoor dining area with ocean views and seating for 8 people.
​
On the main level are 2 guest bedrooms with queen size beds and access to the covered terrace facing the garden (one room with private ensuite, the other with access to shared bathroom with shower).
On the second level is the master bedroom with ocean view, king-size bed, walk-in closet and his-and-hers bathrooms. A second bedroom with queen size bed and ensuite, as well as a sitting room with pull-out couch.
On the third level is a large office space with beautiful desk that faces the ocean. This room also has a pull-out couch, bathroom with shower and closet. All bedrooms have flat-screen TV's as well.
​
Above the garage is a beautiful 1 bedroom apartment, complete with full kitchen, living room with TV, eating area, and bedroom with king-size bed and full ensuite with tub and shower.
​
Services included at Hacienda Santa Fe are: internet and cable, gas, water, electricity as well as landscaping and pool services. Secure parking is also provided at Hacienda Santa Fe for up to 3 vehicles.
Check-in and check-out cleanings are provided, and cleanings during your stay can be scheduled for an additional fee. Grocery service can also be provided for an additional fee.
​
Contact us today to spend your time by the beach at Hacienda Santa Fe. We would love to welcome you!
NIGHT (Min. 3-nights): $700 USD
WEEK: $4,000 USD
2 WEEKS: $7,000 USD
NIGHT (Min. 3-nights): $800 USD
WEEK: $4,500 USD
2 WEEKS: $8,000 USD
* Rates do NOT include transaction fees.
** Please contact us for Christmas, New Years and Easter rates.